As a good corporate citizen in the Huntsville area, Donny's Diamond Gallery is very involved in the community through organizations such as the National Children's Advocacy Center, American Cancer Society, United Cerebral Palsy, American Red Cross, The Land Trust, Huntsville Symphony Orchestra Guild, Community Ballet, Huntsville Museum of Art, Harris Home for Children, Green Gate School, Randolph School, St. John's Catholic School, Huntsville Botanical Garden, YMCA, and Swim for Melissa.
Donny's Diamond Gallery Benefactor for NCAC September Celebration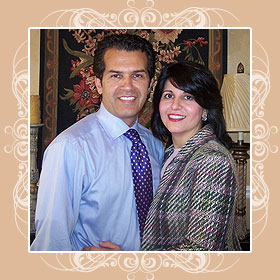 Donny Maleknia and his wife Fatemeh Nazarieh believe that children are the future of America and that support for the NCAC is crucial in preventing child sexual abuse. They demonstrate their support for the NCAC and the children we serve by generously giving of their time and resources.
For the last two years, Donny and Fatemeh have been sponsors of the September Celebration for the Kids at the Benefactor level. They have supported the Center by donating money for sponsorships as well as beautiful jewelry for the live auctions. This year, in addition to their sponsorship, they also donated a black pearl and diamond necklace as a raffle prize.
Donny was recently elected to the NCAC Board of Directors where he also serves on the fundraising committee. His vision for the year ahead is to increase awareness about issues surrounding child abuse and of the work of the NCAC on both a local and national level.