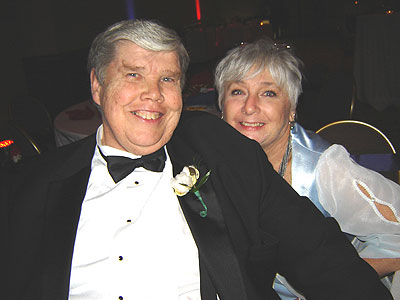 "If you dream it, Donny will create it". That was on the radio on that Saturday in March, 2008.
We are Bobbi and George Williams. We are not young teenagers in love. We are young sexygenarians in love. We have lived many years of life, experiencing the realities of marriage, family, child raising, job fulfillment, and pretty well have a plan for what we want for the remainder of our lives. We have been friends for eleven years and long ago we referred to our time together as, "Bobbi and George's Great Adventure". For young sexygenarians, we were happily on a roll.
We became engaged in Arlington, Virginia, on December 3, 2007 and moved to Huntsville, Alabama. On Saturday, March 20, 2008. We were driving around Huntsville, looking for a jewelry store. We wanted a set of wedding rings; a set that would be unique for us. We had googled the internet for wedding bands with black coral inlays (initial choice) and had talked with a major store in Hawaii about making or modifying rings, but were not satisfied. We had spent time in jewelry stores in Huntsville looking for a custom rings, but just did not find the perfect rings.
But, on that Saturday, the voice on the radio said, "Blah, blah, blah… Donny will create it". "What did that say", George asked? "Something about Bob Wallace" Bobbi responded. We waited and there it was again, "If you dream it, Donny will create it. On Memorial Parkway at Bob Wallace Drive." We were two blocks away.
We found Donny's Diamond Gallery and met Donny. He had a firm handshake and a big smile. "How can I help you", he asked. We told Donny that we were looking for a set of Gold Wedding Bands with black coral inlays and we sketched out what we had in mind. Donny showed us his display rings and catalogs with many new designs, but with Donny's help our concept of a wedding band design evolved differently.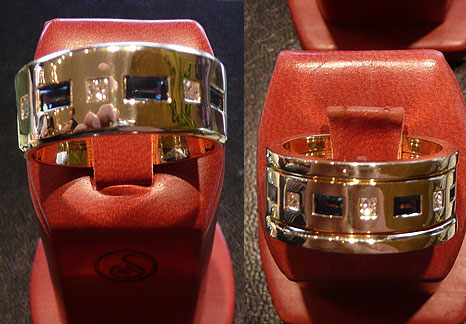 We decided on a heavy, 9mm wide gold wedding band with alternating blue sapphires and diamonds. Bobbi wanted an engagement ring; something to show that she was "Spoken for", but we didn't want a traditional diamond ring that would not blend well with the wedding band. So Donny helped us design a 5mm wide gold band with the sapphires and diamonds for Bobbi for an engagement ring, and Donny would have two 2mm gold bands soldered to the outsides of the engagement ring just before the ceremony to create the final wedding band for Bobbi. They were perfect. They are beautiful. They are uniquely George and Bobbi, and the Adventure continued. We were married 29 November 2008. Donny and Fatemeh attended. Life is good.
Our next stop is to talk to Donny about our new idea: One ruby for each year we are married. We envision adding one small ruby to each ring on each anniversary so we do not lose count. We will have the "Unfinished Wedding Bands" to signify our unfinished marriage.
Bobbi and George wholeheartedly recommend Donny's Diamond Gallery for your unique jewelry needs. If you can dream it, Donny will create it.
George and Bobbi Williams